Our services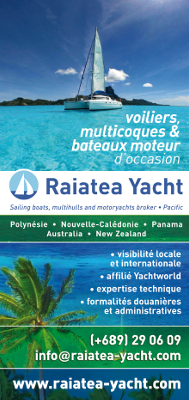 RAIATEA YACHT plays the go- between for the seller of a boat and its potential buyer. We need to tell the difference between services provided on one hand to the buyer and on the other hand to the seller.
You are a BUYER, we propose you to:
ADVISE you and SUPPORT you to find the boat that suits you the best
PLAN visits of boats from your selection or from RAIATEA YACHT'S recommendation
MANAGE formalities regarding the property transfer
LINK you with our partners network:

survey
getting familiar with your boat
trainings to be at ease with mechanical and electrical issues
sailing lessons with a graduated skipper
escorting your boat wherever you want
Whatever your plans are - sabbatical year, sailing through new destinations (Patagonia, Australia, Alaska...), work achievement - we'll provide you with
a personalized service
.
You are a SELLER, our role is to:
IDENTIFY potential buyers and PLAN visits
WRITE the specifications of your boat (in French and English) and TAKE PICTURES
ADVISE you to showcase your boat
BROADCAST the specifications of your boat on our website and on partners websites:
GIVE MEDIA COVERAGE:

a "for sale" sign on your boat with RAIATEA YACHT's details
online classified advertisings
specialized websites and lists
specialized print media: Voiles et Voiliers, Multihulls Magazine
weekly newsletter sent to 3 000 users

LINK you with our partners network:

survey
work
maintenance and cleaning

help you to FIX THE PRICE and take the lead during the NEGOCIATION phase
MANAGE formalities regarding the property transfer
WRITE the agreement to sell and the bill of sale
We propose exclusive or non-exclusive sales mandate.
---
ATTENTION:
We are only intermediates whose aim is to facilitate meetings between buyers and sellers, in no case can we be held responsible for any defect on the boat or for default of payment.
The boat's inventories are based on the indications given by the owners and even if we do our best to see that they are in accordance with the reality, there might be some differences. The boat's and equipment's condition has to be checked jointly by the buyer and seller before the sale.
The respective responsibilities of both the seller and the buyer remain intact.